Nebraska Total Care offers direct, personal assistance to meet the needs of providers.
Provider Services is available to answer general claims, eligibility, and authorization questions. For assistance, contact 1-844-385-2192 (TTY 711).
Provider Relations Representatives are available to help address your complex claims concerns or provider education requests. Representatives are assigned to specific regions and provider groups, and can be contacted directly.
Annual Provider Satisfaction Surveys
You are essential to providing the highest-quality healthcare possible for our members, and your satisfaction is important to us, too. We assess your experience with the health plan through an annual Provider Satisfaction Survey. These survey results will be reviewed by Nebraska Total Care and will be key to helping us improve the provider experience, so please be sure to complete the survey if you receive one in the 4th quarter.
Physical Health Provider Relations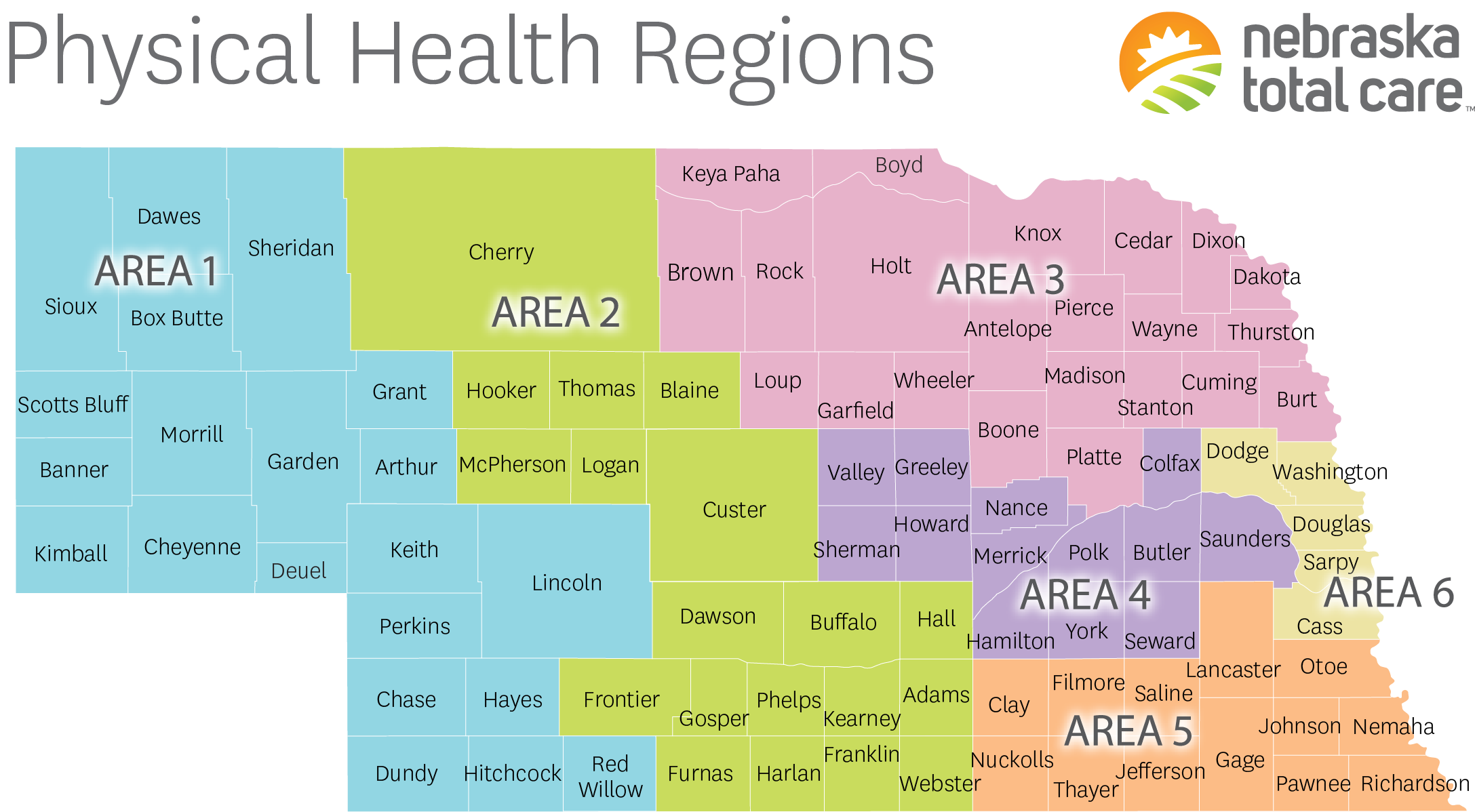 Areas
Counties
Physical Health Provider Rep
Area
1
Sioux, Dawes, Box Butte, Sheridan, Scotts Bluff, Banner, Kimball, Morrill, Cheyenne, Garden, Deuel, Grant Arthur, Keith, Perkins, Lincoln, Chase, Hayes, Dundy, Hitchcock, Red Willow
Cheryl Mascher
Cheryl.R.Mascher@NebraskaTotalCare.com
Cell: 402-619-6926
Area
2
Cherry, Hooker, Thomas, Blaine, McPherson, Logan, Custer, Dawson, Buffalo, Hall, Frontier, Gosper, Phelps, Kearney, Adams, Furnas, Harlan, Franklin, Webster
James Parsley
James.D.Parsley@NebraskaTotalCare.com
Cell: 531-389-1721
Area
3
Keya Paha, Boyd, Brown, Rock, Holt, Loup, Garfield, Wheeler, Knox, Cedar, Dixon, Dakota, Antelope, Pierce, Wayne, Thurston, Boone, Madison, Platte, Stanton, Cuming, Burt
Cynthia Brown
Cynthia.J.Brown@NebraskaTotalCare.com
Cell: 402-671-9872
Area
4
Valley, Greeley, Sherman, Howard, Nance, Merrick, Hamilton, Polk, York, Colfax, Butler, Seward, Saunders
TJ Fegenbush
Trenton.Fegenbush@NebraskaTotalCare.com
Office: 531-329-8459
Cell: 531-375-6377
Area
5
Clay, Nuckolls, Filmore, Thayer, Saline, Jefferson, Lancaster, Gage, Otoe, Johnson, Nemaha, Pawnee, Richardson
Deb Koopmans
Deborah.J.Koopmans@NebraskaTotalCare.com
Office: 531-329-8550
Cell: 402-995-9910
Area
6
Dodge, Washington, Douglas, Sarpy, Cass
Angela Murray
Angela.S.Murray@NebraskaTotalCare.com
Office: 531-329-8533
Cell: 402-669-2370
Behavioral Health Provider Relations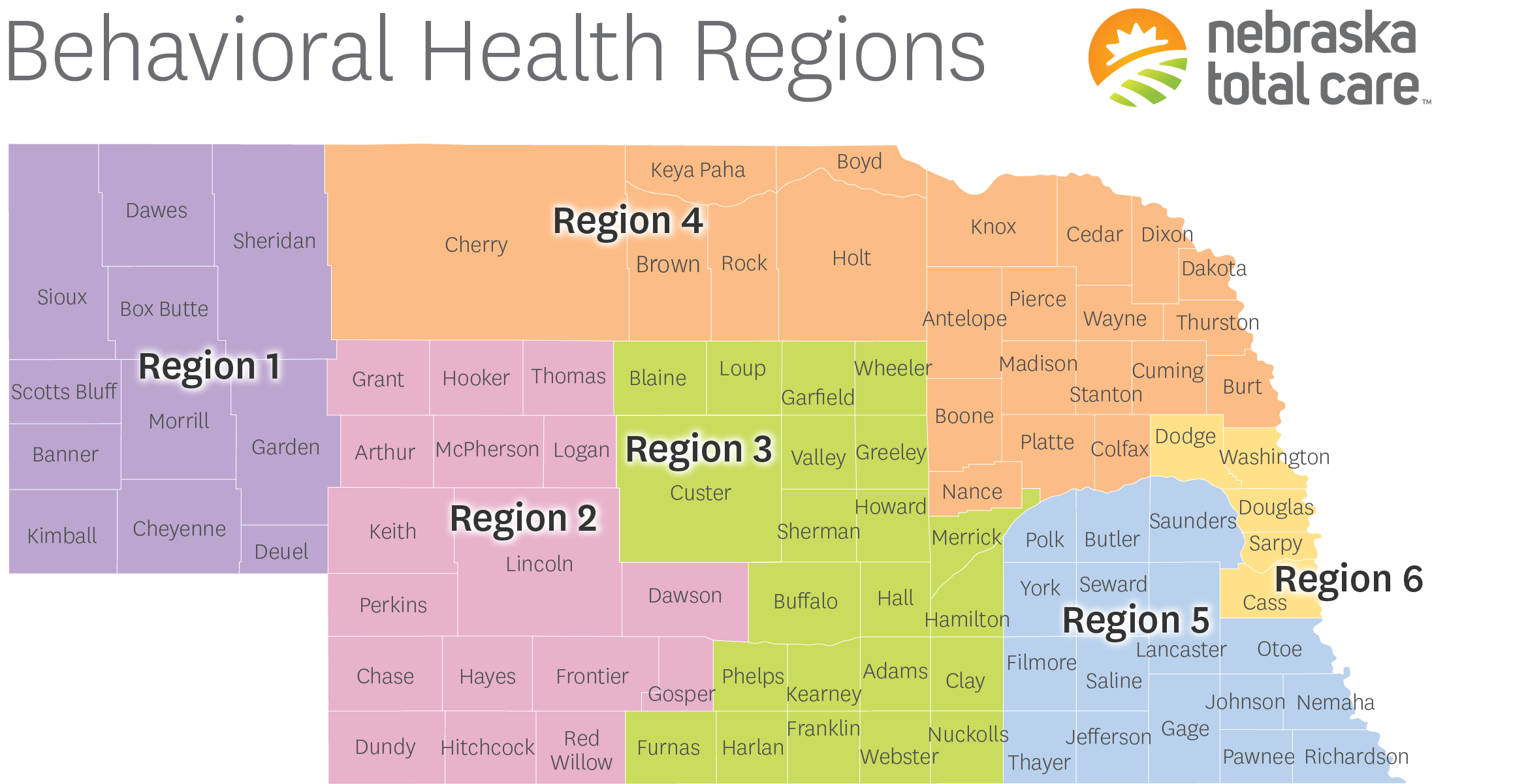 Regions

Counties

Behavioral Health Provider Rep

Region 1
Sioux, Dawes, Box Butte, Sheridan, Scotts Bluff, Banner, Kimball, Morrill, Cheyenne, Garden, Deuel
Cheryl Mascher
Cheryl.R.Mascher@NebraskaTotalCare.com
Cell: 402-619-6926
Region 2
Grant, Hooker, Thomas, Arthur, McPherson, Logan, Keith, Perkins, Lincoln, Dawson, Chase, Hayes, Frontier, Gosper, Dundy, Hitchcock, Red Willow
James Parsley
James.D.Parsley@NebraskaTotalCare.com
Cell: 531-389-1721
Region 3
Blaine, Loup, Garfield, Wheeler, Custer, Valley, Greeley, Sherman, Howard, Merrick, Buffalo, Hall, Hamilton, Phelps, Kearney, Adams, Clay, Furnas, Harlan, Franklin, Webster, Nuckolls
TJ Fegenbush
Trenton.Fegenbush@NebraskaTotalCare.com
Office: 531-329-8459
Cell: 531-375-6377
Region 4
Cherry, Keya Paha, Brown, Rock, Boyd, Holt, Knox, Cedar, Dixon, Dakota, Thurston, Wayne, Pierce, Antelope, Madison, Stanton, Cuming, Burt, Boone, Nance, Platte, Colfax
TJ Fegenbush
Trenton.Fegenbush@NebraskaTotalCare.com
Office: 531-329-8459
Cell: 531-375-6377
Region 5
Polk, Butler, Saunders, York, Seward Lancaster, Otoe, Filmore, Saline, Thayer, Jefferson, Gage, Johnson, Nemaha, Pawnee, Richardson
TJ Fegenbush
Trenton.Fegenbush@NebraskaTotalCare.com
Office: 531-329-8459
Cell: 531-375-6377
Region 6
Dodge, Washington, Douglas, Sarpy, Cass
Angela Murray
Angela.S.Murray@NebraskaTotalCare.com
Office: 531-329-8533
Cell: 402-669-2370