At Nebraska Total Care, our mission is to transform the health of the community, one person at a time. This doesn't stop with the benefits that we cover for our members. We aim to impact the entire community positively because we recognize that this will lead to positive outcomes at the individual level as well.
From participating in community events, sponsoring local programs, volunteerism, and employee giving, we are proud members of our community.
Phoebe the Friendly Tree Frog
Nebraska Total Care's mascot, Phoebe the friendly tree frog, attends events across the state to engage children and families with a focus on improving health and wellness. She has competed with other mascots in a race at the Omaha YMCA's Healthy Kids Day, sung to children celebrating their birthday at the Omaha Storm Chaser's baseball game, and danced with students at local elementary schools to promote fitness.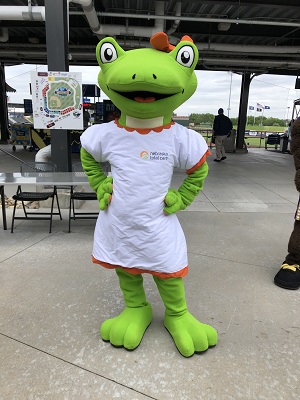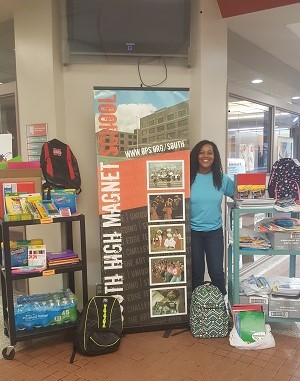 Back to School
Each year we participate in several community back-to-school events across the state. Nebraska Total Care provides school supplies for the children in attendance, and meets with parents to to provide resources and education about the plan. Employees have also donated supplies themselves for delivery to a local school.
NAMIWalks Nebraska 2019
Nebraska Total Care was a proud sponsor of NAMIWalks Nebraska in 2019. The event is held to raise awareness of mental illness. In addition to sponsoring and hosting an outreach table, we had a robust team of employees walk to show their support, even despite the high temperatures the morning of the event.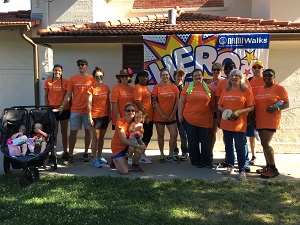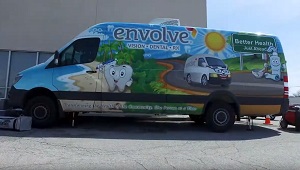 Vision Van
After floods devastated many of the communities in our state in the spring of 2019, we decided to do something to help. We brought Envolve's Vision Van to Bellevue and Fremont in order to provide free vision screenings, exams, and glasses to individuals who may have lost their glasses in the flood. In collaboration with Envolve, we provided 175 vision screenings, 68 exams and pairs of prescription glasses, and over 100 pairs of reading glasses. Watch a video about Shiree, who got a new pair of glasses after she was unable to work due to the flood.
Promoting Summer Fun
In 2019, we provided frog-themed goggles (or "froggles") to 1,000 children across the state in order to promote summer physical activity. You may see children in Kearney, Minden, North Platte, Omaha, South Sioux City, Superior, and Burt, Cuming, Dodge, Saunders, and Washington counties sporting them!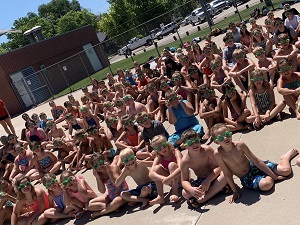 Donate for Denim
In order to support local agencies, we implemented a Donate for Denim program, with the proceeds benefitting our community partners. Employees may pay $10 each month to wear jeans one day each week. Thus far, we have raised more than $1,000 each for two different organizations!
Supporting Salvation Army's Bell Ringers
In December 2018, we delivered hot cocoa to volunteers ringing bells for the Salvation Army in Grand Island and Omaha. The volunteers were braving 20-degree temperatures, and were highly appreciative of the warm beverages. We appreciate their commitment to supporting individuals in need across the state!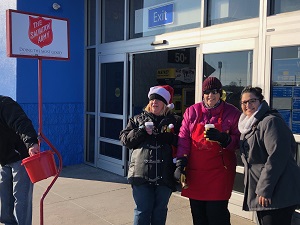 Habitat for Humanity Build 2018
Employees volunteered to help build a home with Habitat for Humanity of Omaha in 2018. We completed activities such as painting, insulating, cleaning yards, and installing sub-flooring. We also presented giftcards to many of Habitat's new homeowners in order to help them purchase necessities. It was great to see families in our community move into safe, healthy, and affordable homes.
Diaper Drive
Each December, employees have collected diapers for the annual Diaper Drive for the Lydia House, a shelter for women and children in Omaha. In 2018 we collected over 3,000 diapers for families in need.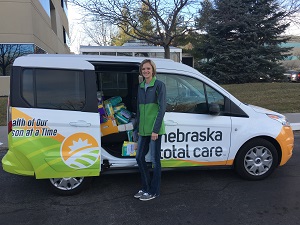 Open Door Mission Possible 5K 2018
Nebraska Total Care sponsored this run/walk event, which was hosted by the Open Door Mission, a shelter and homeless program in Omaha. In addition to the sponsorship, outreach staff had a table to provide information on the benefits of the plan. Lastly, a team of employees came out and walked the 5K in order to show their support for the cause!
JDRF One Walk 2017
Nebraska Total Care served as a proud sponsor of the JDRF One Walk events in both Lincoln and Omaha. Additionally, we had an outreach table and a team of walkers at both events!